September 8-9, 2012, at the Fields Institute in Toronto, Canada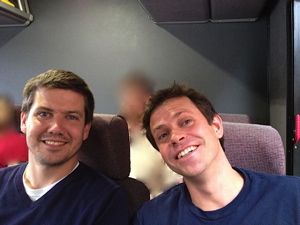 The theme of these lectures will be that there are at least two quite different ideas of what it means to "classify" the objects of a category up to isomorphism. One of these is classification by invariants with good computational properties, while the other, surely familiar to regular attendees of the AST series, is the notion of Borel reducibility. We will examine how they both contrast and complement each other through the lens of C*-algebra theory. What follows is a rough outline of the lecture series.
Lectures I. and II. (Caleb Eckhardt) These lectures will introduce the basic theory of C*-algebras. Topics will include the basic abstract and concrete definitions of C*-algebras, the GNS construction of representations which shows these definitions to be equivalent, examples coming from several kinds of basic mathematical structures, and and introduction to some basic invariants such as K-theory and the tracial state space.
Lecture III. (Andrew Toms) In this lecture we will introduce Elliott's program to classify separable nuclear C*-algebras via K-theoretic data. We'll trace the history of the program from the earliest results of Glimm to the present, and give some idea of how classification theorems of this type are proved. Stepping back, we'll also mention Elliott's classification functor formalism.
Lectures IV. and V. (Andrew Toms) These lectures will focus on the Borel complexity of isomorphism for simple separable nuclear C*-algebras. We'll introduce several parameterizations of separable C*-algebras and see that most basic C*-algebra constructions are Borel. The primary result here are lower and upper bounds for the Borel complexity of iso morphismfor these algebras: it is turbulent, yet below a group action. This result depends intimately on two important theorems from Elliott's program, a satisfying interplay.
Lecture VI. (Andrew Toms) This lecture will consider the Borel computability of several C*-algebra invariants including Elliott's invariant and the Cuntz semigroup. Open problems and future directions will also be discussed.
Show

list of participants
Rob Andrews
Tomek Bartoszynski (NSF)
Sergio A. Garcia Belan (FCFM-BUAP, faculty)
Kostas Beros (Madison, graduate student)
Tristan Bice (Fields, postdoc)
Michael Blackmon (UNCC, graduate student)
Andreas Blass (Michigan, faculty)
Berndt Brenken (Calgary, faculty)
Jonathan Cancino-Manriquez (UNAM-UMSNH, graduate student)
Lisa Orloff Clark (Otago, faculty)
Brent Cody (Fields, postdoc)
Sean Cox (Fields, postoc)
Raj Dahya (Copenhagen, graduate student)
Alan Dow (Charlotte, faculty)
Michal Duucha (Prague, graduate student)
Ohad Drucker (Hebrew University, graduate student)
Caleb Eckhardt (Miami University, faculty)
George Elliott (Toronto, faculty)
Ilijas Farah (York, faculty)
Barnabas Farkas (Wroclaw, postdoc)
Jana Flaskova (West Bohemia, faculty)
Tornetta Gabriele (Glasgow, graduate student)
Miguel Gaspar (UNAM-UMSNH, graduate student)
Saeed Ghasemi (York, graduate student)
Dan Hathaw (Michigan, graduate student)
Aaron Hill (North Texas, postdoc)
Masaru Kada (Osaka, faculty)
Tomasz Kania (Lancaster, graduate student)
Angeliki Koutsoukou-Argyraki (Copehagen, masters student)
Alan Kuhnle (Florida, graduate student)
Paul Larson (Miami University, faculty)
Zhiqiang Li (Toronto, postdoc)
Bert Lidehovius (Neimegen, graduate student)
Martino Lupini (Toronto, graduate student)
Menachem Magidor (Hebrew University, faculty)
Andrew Marks (Berkeley, graduate student)
Paul McKenney (CMU, graduate student)
Arnold Miller (Wisconsin, faculty)
Bill Mitchell (Florida, faculty)
Heike Mildenberger (Freiburg, faculty)
Justin Moore (Cornell, faculty)
Norio Nawata (Chiba, postdoc)
Joav Orovitz (Ben-Gurion, graduate student)
Jan Pachl (Fields)
Timothy Rainone (Texas A & M, graduate student)
Sarah Rezikoff (Kansas State, faculty)
Marci Sabok (Fields, postdoc)
Hiroki Sako (Kyoto, postdoc)
Roman Sasyk (Buenos Aires, faculty)
Ernest Schimmerling (CMU, faculty)
Nigel Sequeira (McMaster, undergraduate student)
Assaf Shani (Hebrew University, graduate student)
Xiaghui Shi (Beijing, faculty)
Iian Smythe (Cornell, graduate student)
Andrew Toms (Purdue, faculty)
Anush Tserunyan (UCLA, graduate student)
Robin Tucker-Drob (CalTech, graduate student)
William Weiss (Toronto, faculty)
Stuart White (Glasgow, faculty)
Jay Williams (Rutgers, graduate student)
Alessandro Vignati (York, graduate student)
Teruyuki Yorioka (Shizuoka University, faculty)